---
4-Crown Nationals
September 21 - September 23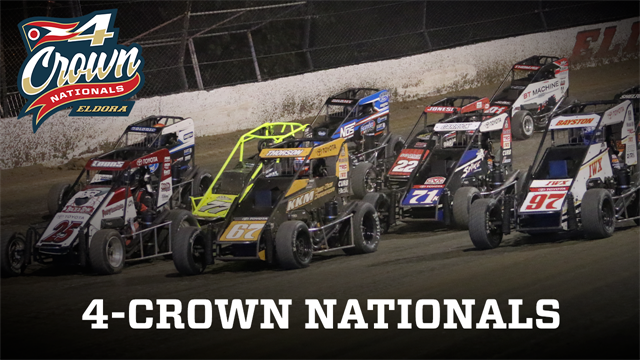 ---
Event Notes
Stream available
Friday, September 21 6:00 and Sunday, September 23 1:59 EST
Race Divisions
WoO Sprints
USAC Midgets
USAC Sprints
USAC Silver Crown
All Star Sprints
Announcers
Blake Anderson
Josh Overholser
Pat Sullivan
Brad Stapleton
Eric Huenefeld
Cameras
Action Cams
Pit Cams
POV Cams
Extra Features
Instant Replay
On-Screen Scoring
Platforms supported

---
Watch all of the WoO, USAC and All Star Sprint action from your computer or mobile device! Stream starts prior to hot laps and will run through the final checkered flag each evening!
9/21/18: WoO Sprints, Eldora Stocks, Silver Crown qualifying. Full show 4hr 28min
9/22/18: USAC Sprints, Midgets, Silver Crown and All Star Sprints. Full show starting with hot laps. 7hr 24min

If you've already purchased the event, simply click the ENTER CODE button on the event date you purchased and re-enter your Watch Code you received upon ordering. New purchases can be made via the PURCHASE button.
Allow video to load a several minutes before scrubbing through to later portions of the event.
Video access for one year.
Compatible Devices:
– PCs on Windows 7, 8 or 10.
– iPhones / iPads on iOS 9 or above
– Android devices on ver. 5 or above.
– Macs on OS X 10.6 and above.
NOT Compatible w/ Smart TVs or Gaming systems